Explore the wonderful world of exclusive designer fabrics by Pollack. Though not a widely known design house, Pollack offers a full and wonderful line of designer fabrics of top quality, exclusive in-house designs and superb eye appeal. They offer incredible velvets, contemporary and traditional wovens and wonderful sheers. Color, texture and design excellence is Pollack and we are proud to be one of the Midwest's authorized retailers of their fine designer fabric lines. Pollack is milled in the USA, Canada and in Europe with many wovens coming from outstanding Swiss, German and Belgian mills. We offer discounted price points to our retail clients and offer discounted wholesale and a small selection of retail Pollack designs online at spiritcraftpillows.com . All Pollack fabrics are available via custom order and cuttings are available to approve color.
A few Select Pollack Fabrics…

"Flow" a curvaceous pattern of dense, soft velvet ripples across the surface of FLOW against a voided polyester ground. Cross-dyeing separately colors each lustrous yarn to create a richly elegant fabric. Short of actually holding these fabrics, these images convey the intricate balance of color, fiber & weave that create textiles of incomparable quality and beauty.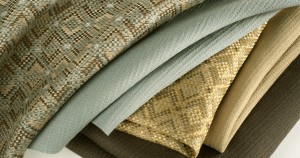 An all-recycled polyester fabric, Snake Charmer is a tiny checkerboard of colored blocks arranged in single and double chevrons. They form an organized snakeskin motif, softened by stippled squares of a finer weave. Atmosphere, also woven with all-recycled polyester yarns, is a supple and wool-like Jacquard pattern that uses four varying weights of yarn to create its textured surface of vertical and horizontal ribs. Both fabrics are milled in Canada for Pollack.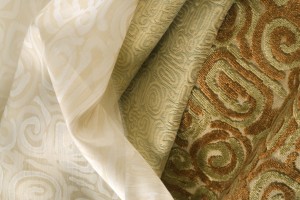 Two filling yarns of different weights and colors combine with a single-color warp in this FR, 118 inches wide, reversible window fabric. In GLYPH SHEER – an all-Trevira design – color, yarn and weave changes distinguish the layers of pattern as subtle tone-on-tone shapes. Abstract markings cover the surface of GLYPH MATELASSE, drawn with a fine mercerized cotton that glazes the pattern with a faintly metallic sheen. A second cotton filling yarn adds color to the ribbed ground, while heavy cotton stuffer picks raise the motif. In the lustrous voided GLYPH Velvet, two colors of viscose pile trace casual doodles that jostle for space. The "negative ground reveals another level and another color, adding depth and shadow to this playful design.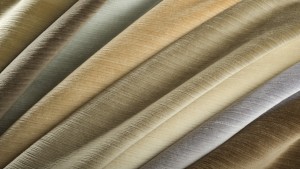 Think of Classic Velvet, a luxurious and supple pile fabric, as the cotton equivalent of cashmere. Woven with extremely fine yarn, the surface is subtly patterned by an antiqued, or voided, effect. The exquisitely clear-toned palette further distinguishes this beautiful velvet which is part of the Pure collection.
Pollack and Associates offers a wide variety of solid and patterned velvet fabrics with selections that fit in any home decor budget.
To learn more about Pollack Designer Fabrics and see a small selection of fabrics, visit Pollack Fabrics from Spiritcraft Design or call 815-893-6609 for discount designer pricing on any pattern.
Main image: Pollack Checkered Velvet
By: Mal Gleichmann