In Solid North American Black Walnut and Cherry, this piece of casework features solid slab hardwood sides and corners that support the substantial clinging top that is the Mod Century design. The piece is crafted from the hardwood of a single large rescued Walnut log and the sides, media shelf and the entire face is of carefully selected book-matched boards. Note the Walnut bookmatch and the figured grain flowing from the left hand drawers, through the center door and then to the right hand drawers. The clinging top is solid 2″ thick Black Cherry that will deepen in color with age.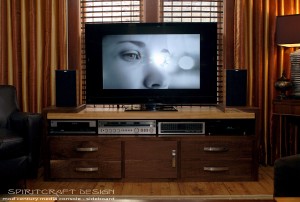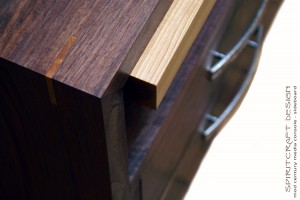 This Spiritcraft Design original is a tribute to fine Mid Century furniture while borrowing design elements from the prairie and modern styles of Architects such as Frank Lloyd Wright and Philip Johnson.
As an entertainment center, this piece utilizes four large dovetail drawers on Maple runners which are divided for both CD and DVD storage. The two CD drawers will hold more than 350 CD's along with velvet lined remote storage while the two DVD drawers will hold 186 DVD's. The center door conceals additional storage and is customized in this piece to offer a solid Mahogany slide out turntable shelf with vibration dampeners for vinyl enthusiasts. The secondary shelf is substantial enough for the heaviest audio and video components and offers unrestricted airflow. For audio enthusiasts, matching spiked speaker stands are being designed to match the entertainment / stereo cabinet.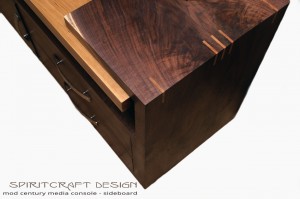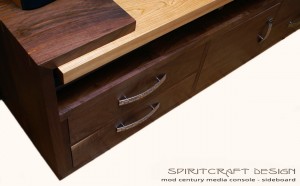 This piece is fully customizable as an entertainment center, sideboard or bedroom casework piece in terms of size, door and drawer configurations and hardwood types or combinations.
Again, this piece is crafted from 100% solid hardwood Walnut, Cherry, Mahogany and Maple and is constructed to last for generations. The traditional joinery methods utilized in this and other pieces in the Mod Century offerings are splined miter joints, mortise and tenon and dovetail joinery. As pictured, the Mod Century Entertainment / Stereo Cabinet weighs 250 lbs and measures 78″w x 26″h x 20″d.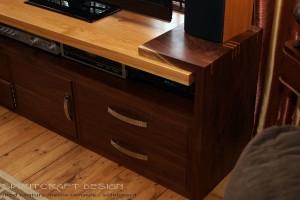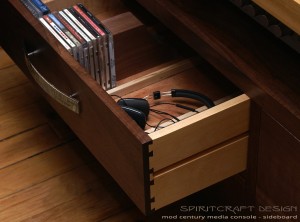 Rediscover quality and the real value in furniture that is crafted to endure. Spiritcraft Design Furniture from solid rescued hardwood, handcrafted one at a time in the United States with "spirit", passion and heart.
To learn more about the Mod Century line of Spiritcraft Design Furniture or to receive a free consultation / quotation, please feel free to contact us at 815-893-6609 or email us.
By: Mal Gleichmann