Transform a room with a modern built in wall unit of hardwoods that match your interior decor style. Form and function come together in any transitional, modern or contemporary design motif with the use of single or multiple hardwoods in a customize-able built in that allows your personal design style to radiate.
Our use of modern influences from the Mid Century Modern era have allowed us to create an interior design product that can enhance our clients interior decor vision and provide a dramatic visual statement while solving space planning and storage issues. Our Madison Avenue collection of built in modular wall units can be customized to enhance any room in your home or office and provide timeless eye appeal with customized function.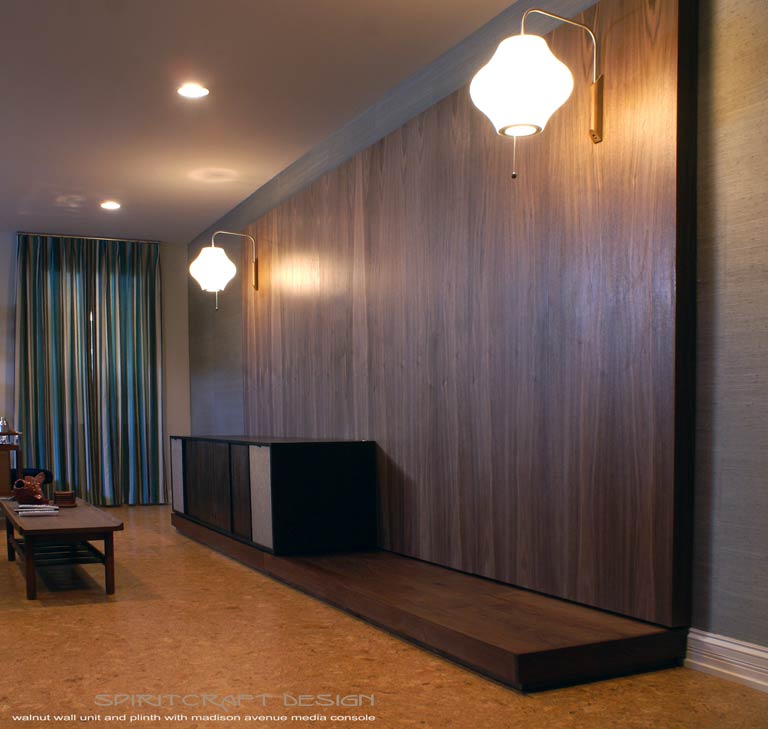 Madison Avenue built in wall unit in Elmhurst, Illinois home.
We recently installed the above modular wall unit and media console in an Elmhurst, Illinois home. The client has an eclectic style with many original pieces from the Mid Century Modern era that include furniture and upholstery designs by Adrian Pearsall, Milo Baughman, Thayer Coggin, Dunbar and others. They have previously installed pieces from our original Manali and Mod Century collections of furniture and this installation for our new Madison Avenue Collection is another fitting enhancement to their personal interior design style.
This installation consisted of a 15 foot wide floating Walnut plinth below a substantial and continuous wall panel made from sequentially matched veneers. Our Madison Avenue Media Console rests on the plinth and offers adequate storage in a beautiful case of dyed African Mahogany with Ebony sliding doors.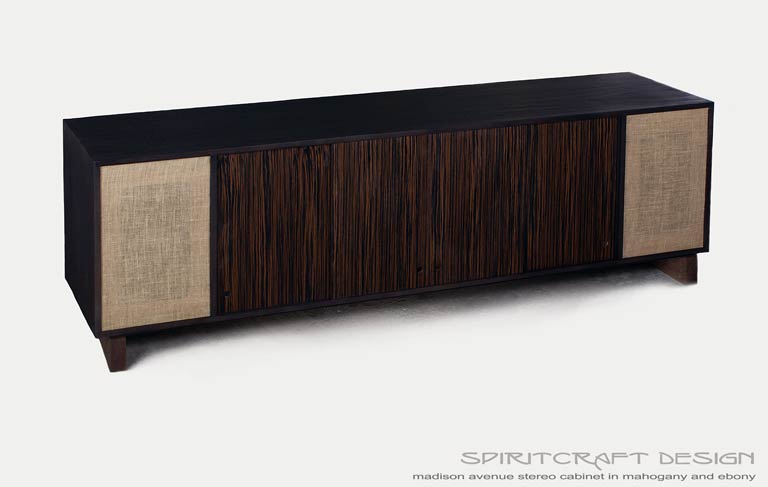 Solid Dyed Mahogany with reconstituted Ebony veneer sliding doors and fabric speaker grills.
Our Madison Avenue wall units, plinths and casework are available in varying configurations for the bedroom that includes built in floating nightstands along with a vast array of choices for padding in differing shapes and fabric offerings. The wall installations are also available in any custom size and length and in nearly any hardwood imaginable for office, commercial, bathrooms and any other living or work environment.
Installations can be adapted to include shelving, cube arrays, floating plinth elements along with lighting options that include incorporated wall sconce and overhead LED spot lighting. Our lighting options can be controlled with our original touch switch dimmers that are built into the consoles, night stands, walls or shelving.

Example of floating nightstand in Madison Avenue bedroom wall unit with padded headboard.
The Madison Avenue Collection Media Console, a Mid Century Modern Influenced piece of heirloom furniture adaptable to any room in the home.
The pictured Mid-Century influenced console is 93.5″ wide by 24″ deep and high and offers three internal compartments for media and storage and two outer compartments that are covered in fabric to mimic a classic stereo console. The case is made from solid hardwood while the doors are covered in reconstituted real wood veneer over Meranti marine ply for superb stability and ultimate longevity. The four doors slide effortlessly and conceal adjustable Walnut shelves though open compartments and drawers are options in this console design.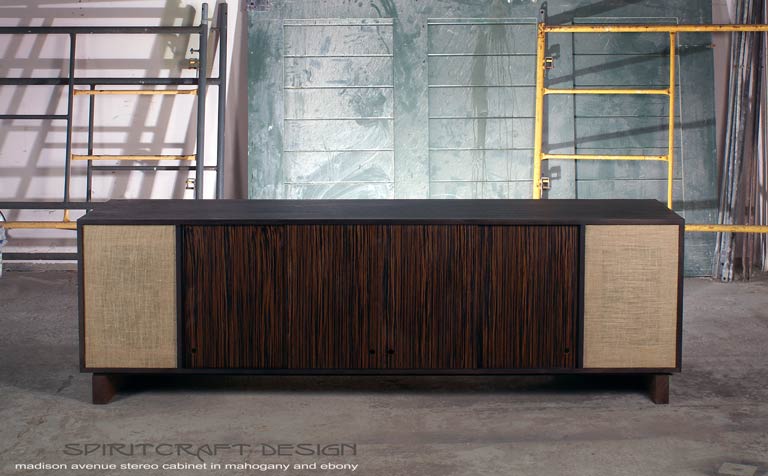 Heirloom quality solid hardwood furniture in fresh mid century influenced designs.
The media console is available in a vast array of solid hardwoods, depths, widths and internal configurations while the appearance can be drastically changed by the choice of veneers for the sliding doors and by adding open compartments or visually apparent drawers to the cabinet face. The Mad Ave console is also available in various leg styles and heights that will adapt this Mid Century influenced case into a dining room sideboard, bedroom dresser or of course into a standalone stereo / media console.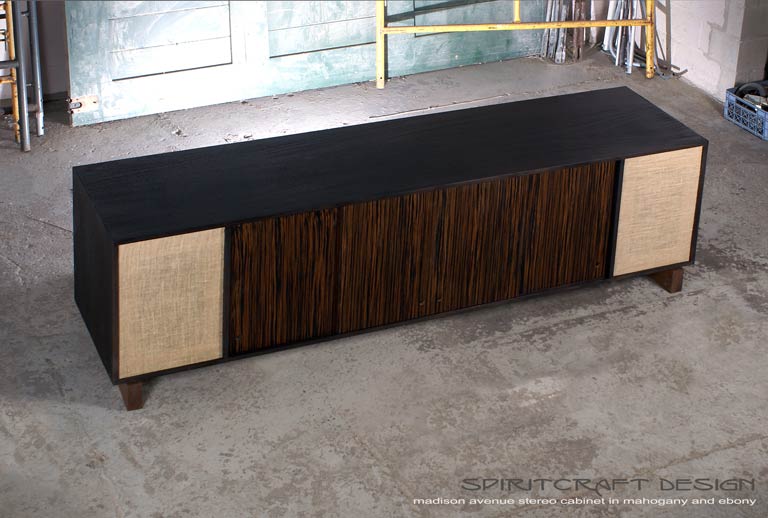 Heirloom quality solid hardwood furniture in fresh mid century influenced designs.
Several designs within our new furniture collection along with other collections, upholstery and window treatments will be on display at our new interior design showroom and furniture gallery, Interior Design Accents located at 7 Jackson Street in East Dundee, IL. Our solid hardwood furniture is available locally through our Dundee design showroom in Suburban Chicago and is shipped nationally via our meticulous and affordable blanket wrapped delivery partner.
Please feel free to contact us with any questions regarding our Madison Avenue Collection or to inquire about enhancing your decor with our built in or free standing pieces of heirloom quality furniture and furnishings. Call 815-893-6609 or email us at sales@spiritcraftdesign.com to discuss your interior decor transformation. All photos copyright spiritcraft design 2015.
By: Mal Gleichmann
Interior Design Accents | Spiritcraft Design
Serving Barrington, Arlington Heights, the Chicago area and suburbs from our East Dundee, Illinois home decor showroom and furniture workshop.
Ph: 815-451-9734
email: sales@spiritcraftdesign.com
Additional Images